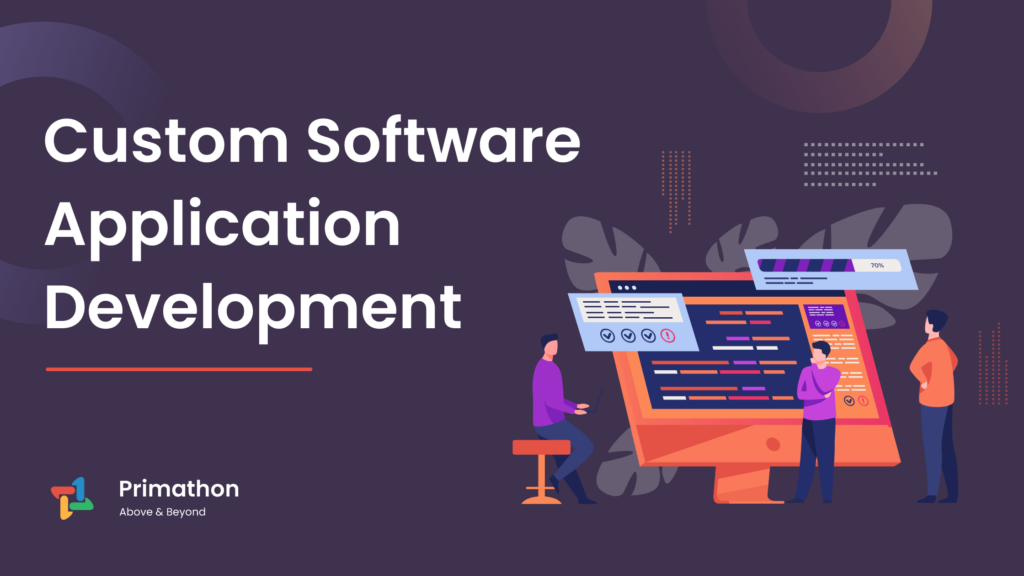 Earlier, having a website and customized software were all limited to big businesses but as the small ones are starting to get a knack for marketing, they are beginning to rely on the internet for their growth. Nowadays, small and big businesses combined take the help of the world wide web to get their planned audience. Here are many best custom software development company India but Indore is a city in India that is rapidly growing, with new opportunities appearing every day. Since more and more companies are realizing the value of going digital, custom software development companies in Indore are expanding. A company that specializes in developing custom software solutions for its clients' particular requirements. They collaborate closely with clients to comprehend their particular business needs before using that information to design and create a unique software solution that satisfies those needs.
What is custom software development?
The process of designing, developing, deploying, and maintaining software for a specific group of users, functions, or organizations is known as custom software development. Custom software development, in contrast to commercial off-the-shelf (COTS) software, aims at a narrowly defined set of requirements. The software development team has access to a variety of technologies and programming languages, including .NET, Java, Python, PHP, and others. A custom software development company can be a valuable resource for businesses in need of a software solution that is tailored to their specific requirements. Custom software solutions can be created using the development team's expertise and experience to improve business efficiency and productivity and help them stay competitive in their respective industries.
Custom Software Application Development Services
Custom software development businesses frequently provide a variety of services, such as:
Gathering requirements entails working with the client to comprehend their unique needs and specifications for the software
The actual process of creating the software, from the initial design to the finished product, is included in design and development.
QA and testing business will test the program to make sure it is bug-free and operating as intended.
deployment and upkeep business will install the software on the client's servers after it has been created and tested and will continue to offer maintenance and support.
Benefits Of Working With A Custom Software Development Company
Custom software solutions have numerous advantages over off-the-shelf software. They can be tailored to a company's specific requirements, are more scalable, can be integrated with existing systems, and can be designed to grow alongside the company. Healthcare, finance, manufacturing, and other industries and business types can all benefit from the development of custom software solutions.
Software Solution: One advantage of working with a custom software development company is that customers can obtain software that is specially customized to their company's needs. This may lead to a better fit between the client's requirements and the software, which may boost productivity and efficiency.
Software Solution Optimize: As the client's needs change over time, a custom software development company can assist in optimizing the software solution. This can make it more likely that the software will continue to satisfy client needs and remain current over time.
Which is the Best Custom Software Development Company in India?
Custom software development companies frequently offer a wide range of services, including project management, software design and development, testing, and deployment. Additionally, even after the software has been installed, they might still support and maintain it. To fully understand the client's needs and produce a solution that meets them, they collaborate with a team of software developers, engineers, and designers. The discovery phase of the process usually kicks off with a client meeting where the team gets to know the client's company, their goals, and the specific issues they are trying to solve. Once the requirements are understood, the team will create a design for the solution and develop the software. During the development process, the team will work closely with the client to ensure that the software is meeting their needs and making the necessary changes as required. Once the software is completed, the custom software development company will test it to ensure it is free of errors and bugs. After the client is satisfied with the software, it is delivered and deployed. They typically use a variety of programming languages and technologies to create their solutions. Some of the most popular languages and technologies include Java, C#, Python, and JavaScript.
Custom software development firms are frequently sought after by businesses of all sizes, ranging from small startups to large corporations. They offer a flexible and cost-effective method of developing software solutions that are tailored to the specific needs of a business. They may also provide maintenance and support services in addition to custom software development to ensure that the software continues to function properly. A respectable software development company first determines how to conduct business by determining the needs of its clients. Any software development firm should understand the significance of what a company does and who its target customers are. Creating software that meets a venture's needs requires extensive planning and research. The software development company you select can affect how your business develops.
In India, Primathon is a leading custom software development company in Indore that guarantees authentic development for businesses. Building trust is one of our primary goals, and we accomplish this by getting to know our clients on a personal level. From Delhi to Lucknow, and from Pune to Indore, digitalization has pushed everyone into the race. Custom software development company Indore strives to create an environment in which even small businesses can choose to develop their websites according to their needs and effectively cater to their audience. Primathon is an Indore-based custom software development company that strives to provide the best software solutions.