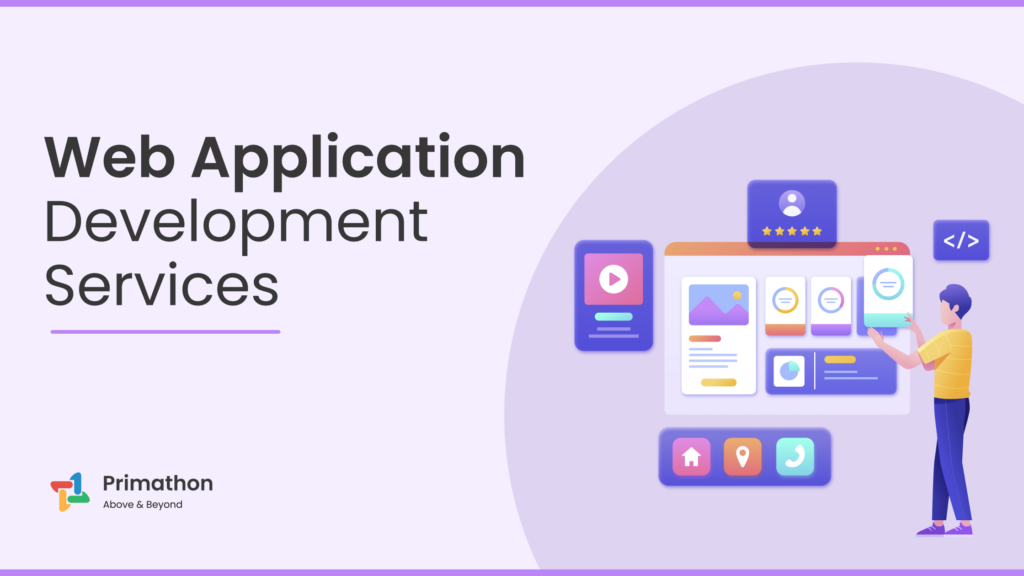 Web application development is the process of developing software applications for the web. These apps are stored on distant servers and delivered over the internet to the user's device. A web application (web app) can be accessed over a network without needing to be downloaded. The complex process of designing and creating a web-based application by incorporating the idea behind the business model of an organization is known as web application development services in India. A web application is an interactive program with a user-friendly interface that a user or customer can use through a web browser. It stands out because it can be accessed through a web browser and is stored online. Compared to mobile applications they are cost-efficient, easy to back up, and much more secure. Typically web application development will have a short development life cycle led by a small development team.
What are the Different Types of Web Applications?
The use of web application development services India is not limited to just one type. There are myriad types of web applications that can be used by a company to enhance security, increase efficiency, deliver information, give access to product information online, and more. Each business model has its necessities when it comes to web applications, therefore web applications can provide a series of functions suitable for specific businesses.
Let's take a look at the most popular types of web applications and how they are used by different business models.
E-commerce Applications |
An organization that sells goods or services may benefit from having a web application. Customers can use UPI, credit, and debit cards to make electronic payments using applications built on this business model. A management panel is also necessary for this kind of application so that the administrator can create new product listings, update or improve existing listings, delete entries, and keep track of payments.
Depending on the outlook of the business model, it can be further divided into different segments such as Business to Customer (B2C), Customer to Business (C2B), Business to Business (B2B), and Customer to Customer (C2C). Businesses expect an E-commerce app to have practical features based on their models, such as email marketing integration, promotion, multiple payment options, and the capacity to add and scale new features, to meet the needs of their target audience.
Portal Web Applications
These programs let companies create user-friendly interfaces that are tailored to their customers' needs. It differs from many other web applications in that users must log in to a secure area to access these applications in order to access the information or carry out specific tasks.
The service provider on the other end can monitor the user's web activity once they log in to the portal with the specific credentials they were given. Some of the features might be restricted depending on the level of access granted to that specific user. The government portal, student or employee portals, online banking portals, and many others are just a few examples.
CMS Web Applications
Different businesses typically use a content management system (CMS) web application to manage their website content. Using a CMS allows for the editing and publication of content on the web from a variety of contributors. It is typically kept in a database where it can be accessed easily when needed.
By allowing the organisation to assign responsibilities based on employee roles as editor, creator, author, and administrator, CMS is typically used to improve workflow management. As a result of its inclusive and collaborative nature, this kind of application is useful for businesses in various industries.
Why choose a Web application?
A business should choose to have a top web application development company Delhi in India for numerous reasons for instance assisting employees with particular business functions and enhancing overall user experience.
Why Choose us?
At Primathon, we strive to meet all of our customer's needs in order to give you the best possible service. Our team consists of very qualified and well-equipped people who will provide you with the best results on the market.
FAQs:
Q. 1) Does Primathon provide trustworthy services for web application development?
Ans.) Yes, Primathon offers a range of quality-approved services that include web application development services as well, and that too with a sense of reliability.
Q. 2) Is it beneficial to opt for web application development services?
Ans.) The type of growth that web application development can offer to your business is out of your imagination. It would be beneficial for your business in the short term as well as in the long term.